FUCK THE CARRIAGE!!!!!

---

馬車だ!!!!あああああアアアああああぁぁあぁあぁアァあぁFUCKYOU

DUHHH THE CARRIAGE!!!! DUHHH THE CARRIAGE!!???!!1 THE CARRIAGE!!!!! IS THAT ALL YOU TWINCEST FUCKS CAN SAY!!??? DURR THE CARRIAGE RIDING ON FOREVER IN THE NIGHT WILL ONE DAY TURN BACK INTO A PUMPKIN I FEEL LIKE IM IN A FUCKING ASYLUM FULL OF DEMENTIA RIDDEN OLD PEOPLE THAT CAN DO NOTHING BUT REPEAT THE SAME FUCKING CINDERELLA COMPLEX-LITE THEORY ON LOOP LIKE A FUCKING BROKEN RECORD THE CARRIAGE WILL TURN BACK INTO A PUMPKIN LOL!!! THE CARRIAGE!!!1 PUMPKIN!! LE CARRIAGE!!!! I AM IN THE CARRIAGE!!!! YOU THINK THIS FAMILY SETTING WILL PERSERVE OUR FRIENDSHOP PREVENT CHANGE I FUCKING HATE THE HOST CLUB SO GODDAMN MUCH FUCKJK YOU KAORU I HONEST TO GOD HOPE YOUR HOST CLUB KING CHOKES ON COMMONERS COFFEE IN HELL YOU COCKSUCKER VUT OHHH I KNOWM MY POST IS FEEDING INTO THE CARRIAGE ALLEGORY ISNT IT?? THE CARRIAGE WILL TURN BACK INTO THE PUMPKIN ONE DAY AND THEN YOU'LL BE ALL ALONE!!!!!!
---
























I am genuinely fucked. I am so fucked. Do you know how fucking humiliating it is to be me. I cannot look at Cinderella carriages OR pumpkins normally everytime I see any of those things I go I can't fucking take it. This isn't even funny anymore and now at the height of it I'm making a fucking webpage and for what? what end goal? there isn't one. i fucking hate the carriage so fucking much it has ruined my life. I hyperventilate when i see a fucking PUMPKIN at the GROCERY STORE i lose my SHIT when anyone says the word CARRIAGE and then i look like a CRACKHEAD. i literally saw a cinderella carriage toy in my neighbors yard and in the dead of night i tresspassed on their property to take a picture with the flash on to show my friends and say this is an actual psychotic disorder and it's all due to KAORU FUCKING HITACHIIN!!!!

EVEN IF I FUCKING EXPLAIN IT TO YOU YOU WONT
UNDERSTAND!!!!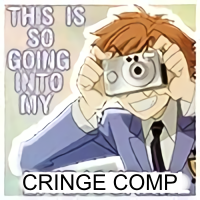 ok let me try and explain myself... have you ever watched an anime called

Ouran Highschool Host Club

? So in it, there's this guy named Kaoru Hitachiin, right. younger brother of Hikaru Hitachiin. They're in incest love i think. anyways kaoru is literally in the top 1% like the whole meme of the show is that all the characters except the main one are rich so it's like "haha dumb rich people don't know how to buy toilet paper because they've never had to go to the super market quirky funné!!" so ok. this 15 year old billionaire has depression and to illustrate his worries + anxities he compares his life to

cinderella

............ok.........so that's fucking stupid....but it's funny and it was executed good so it's whatever no. my issue is not the fact the allegory exists at all. it's that....no. listen to me.

listen to me. I'm grabbing you by the shoulders.

Come closer, boy.

You're still too far away.



......


IT'S NEVER FUCKING RESOLVED
DO YOU KNOW HOW FUCKING ANNOYING THAT IS. OHHHHH LET'S GIVE THIS CHARACTER A WHOLE DEPRESSION ARC ABOUT HIS DEEP FEARS. AND THEN NEVER RESOLVE IT!!!!!!!!! LET'S LEAD THE AUDIENCE TO BELIEVE THERE'S CREDIBILITY TO HIS FEARS OF LOSING ALL HIS FRIENDS.....AND NEVER STATE OTHERWISE. OK. OK. AND HE FUCKING SAYS IT CONSTANTLY LIKE "THE CARRIAGE WILL HAVE TO TURN BACK SOMEDAY" AND NOBODY FUCKING BATS AN EYE NOT EVEN HIS BROTHER THEYRE JUST LIKE "OH FUNNY KAORU WITH HIS FUNNY COGNITIVE DISSONANCE" STOP. OK. GO FUCK YOURSELF.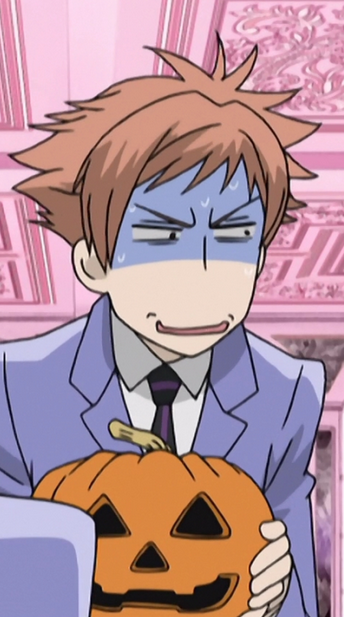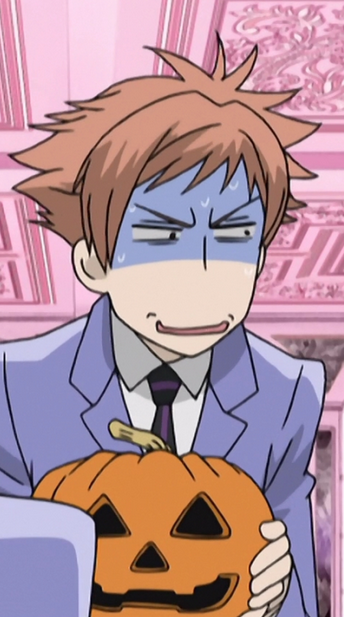 I HAVE INVESTED WAY TOO MUCH INTO THIS EMOTIONALLY. I LIKE THIS CHARACTER, OK? AND I ADMIT THE SET UP WAS PRETTY COOL. BUT THEN....IT NEVER GOES ANYWHERE........WE'RE LEFT WONDERING, JUST, WHAT THE FUCK?
SO OF COURSE I INVENT CINDERELLA NIGHT. ME AND MY FRIENDS WATCH CINDERELLA MOVIES EVERY THURSDAY NIGHT. AT FIRST IT WAS ME TRYING TO MAKE SENSE OF THE ALLEGORY. MAYBE I WAS MISSING SOMETHING. NO. AND NOW I AHVE WATCHED ALL 3 CINDERELLA MOVIES ENGLISH AND JAPANESE. MULTIPLE TIMES. AND WE ARE GOING TO WATCH EVERY LIVE ACTION FILM IN EXISTANCE.
it has unfortunately come to my attention that some people believe the carriage allegory does get resolved in the final episode. the fact that the carriage haruhi & friends were riding on falls into the pumpkin patch but tamaki is still rescued at the end of the day means that everything is fine and that the spell has broken but it's all ok. No. No. No. you fucking morons. listen to me. sure. consider this resolved. maybe themeatically, sure. but for kaoru, no. the carriage allegory is a symptom. a symptom of kaoru's depression. they treated the symptom, not the actual illness, and either way, kaoru was never in the know about it. it was just for us, the audience, but what does kaoru get? his fears are never resolved. we get the cheapest ending possible. and it's so so fucking annoying. they did this on purpose to say "oh look we DID resolve it!" NO YOU DIDN'T. YOU FUCKING DIDN'T. YOU DID THE BARE MINIMUM AND USED A LOOPHOLE BUT IT'S STILL UNRESOLVED FOR THE CHARACTER IN QUESTION. i hate this piece of shit allegory and if anybody else sends me an anonymous ask on tumblr saying how the carriage allegory was actually resolved im stapling my ballsack to the ceiling fan. good fucking bye.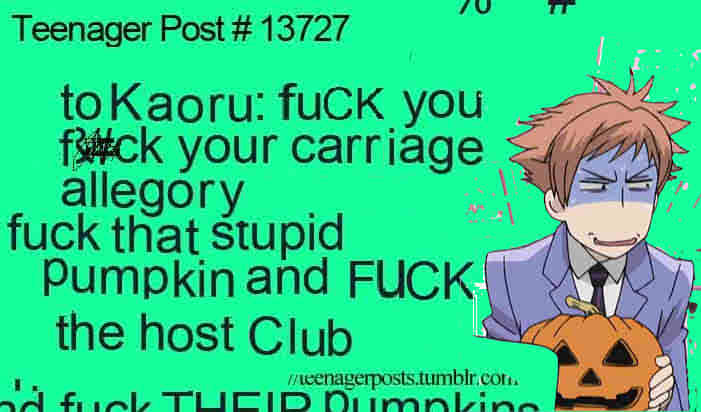 To be fair, you have to have a very high IQ to understand the carriage allegory. The meaning is extremely subtle, and without a solid grasp of teenage depression most of the symbolism will go over a typical viewer's head. There's also Kaoru's nihilistic outlook, which is deftly woven into his characterisation - his personal philosophy draws heavily from classic Disney movies like Cinderella, for instance. The fans understand this stuff; they have the intellectual capacity to truly appreciate the depths of these ramblings, to realize that they're not just contextual- they say something deep about LIFE. As a consequence people who dislike the carriage allegory truly ARE idiots- of course they wouldn't appreciate, for instance, the humor in Kaoru's existencial object of choice, the pumpkin, which itself is a cryptic reference to how the carriage will revert back into a pumpkin at midnight. I'm smirking right now just imagining one of those addlepated simpletons scratching their heads in confusion as Bisco Hatori's genius unfolds itself on their television screens. What fools… how I pity them. 😂 And yes by the way, I DO have a Kaoru Hitachiin tattoo. And no, you cannot see it. It's for the host club's eyes only- And even they have to demonstrate that they're within 5 IQ points of my own (preferably lower) beforehand.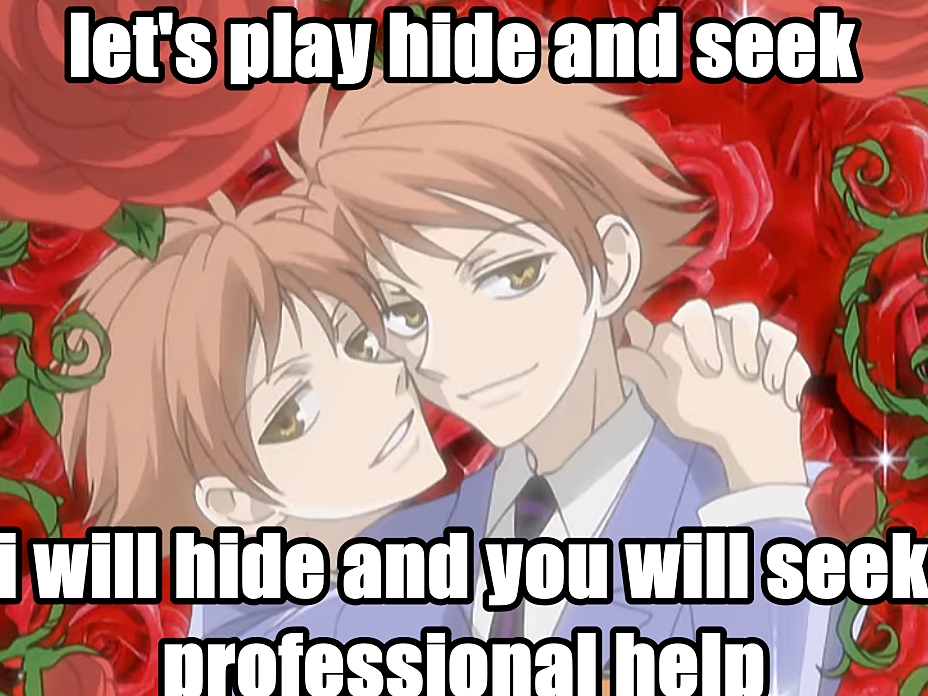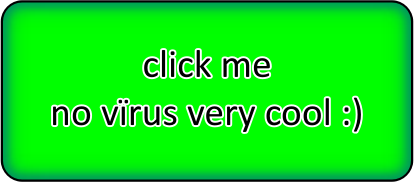 OURAN SEASON 2 OPENING!! FUCK YOU!!!
---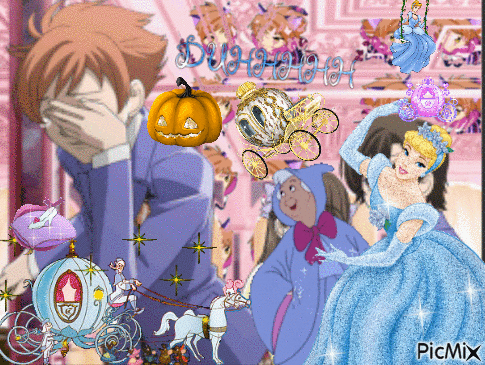 SAY SOMETHING THAT
WILL PISS ME OFF
I KNOW YOU WANT TO!!!

FUCKING LINK ME COWARDS



I dare you to click the fucking pumpkin.
---
---